Beaches
SOME OF THE MOST BEAUTYFUL BEACHES IN THE WORLD!
Beaches
Visit as many as you can and take in their beauty!
The island of Crete wouldn't be as we know it without its beaches! At the Perfecture of Chania you will find some of the most famous and amazing beaches of the island. Some of the most famous beaches you see and admire in photos are here! Get ready to discover them!
Elafonisi Beach
According to travel agents, Elafonisi is one of the most beautiful beaches in the world. Its turquoise waters and its white sand make for a magnificent sight. The san has a light pink color from the shattered seashells. The name of the beach comes from Elafonisi Island, which is a small island very close to the shore. The waters are so shallow that you can reach the island by walking.
Balos Beach
Another exotic beach. Its turquoise waters and the white sand that glows under the sunlight have made Balos Beach one of the most famous beaches of Crete. You can reach it by car (part of the ride is through unmade roads), or by boat through Kissamos. What makes the view even more memorable is the contrast of the mountains behind the beach with the crystal clear waters.
Falassarna Beach
Falassarna beach is one of the most well-known beaches of the island. It might seem like an enormous beach but in reality it consists of five different beaches! The central one is called Pachia Ammos Beach and has the most visitors due to its cafés and lounges. The waves are usually high, which makes it the ideal choice for surfing.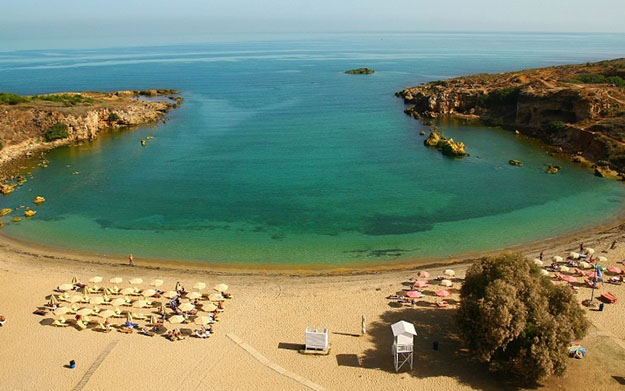 Chrissi Beach
Chrissi Beach is very close to the City of Chania and easily accessible, which makes it a very popular choice for locals and tourists alike. As portrayed on its name, its sand has a golden color. It also has many cafés.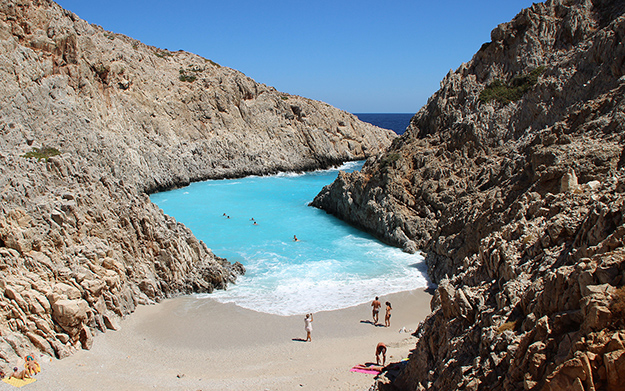 Seitan Limania Beach
Its name comes from the Turkish word "Seytan", which mean Satan. Somthe name of the beach translates as Cursed Harbor. It's a very narrow lane of water that reaches the shore creating some kind of small fiord with beautiful crystal clear waters.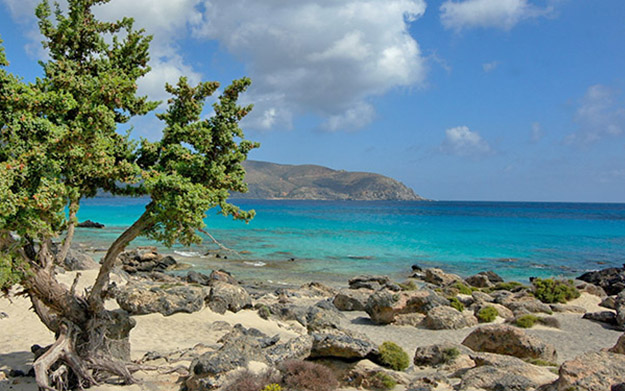 Kedrodasos Beach
Light blue waters, sand hills with white sand, and centuries-old cedars that cover the whole area, all paint a magnificent picture. The area is protected by the NATURA 2000 Protection Network because it has been preserved intact from civilization.